Using UTMs to get reliable reporting in Google Analytics or similar tools requires you to have a solid plan before getting started with a UTM builder.
This guide walks you through everything you need to know to start creating effective UTM tracking codes.
You can click on a link to jump to any section
What is a UTM builder?
A UTM link builder or URL builder is a tool that saves you the hassle of manually adding unique UTM parameters to the end of all links that send traffic to your website or blog.
If you are unfamiliar with UTM tagging, UTM (Urchin Tracking Module) codes help you track the sources and channels through which people are coming to your website in Google Analytics and other analytics tools like Mixpanel, Kissmetrics, and Amplitude.
In practice, a UTM tracking link looks like this.
https://www.your-website.com/?utm_source=facebook&utm_medium=social&utm_campaign=december-2021/

It's almost impossible to manually generate hundreds of these long strings of text without making mistakes.
When using UTMs, mistakes are very costly. A simple typo or capitalization error in any of the UTM parameters will ruin the accuracy of the data tracked in google analytics.
A good UTM builder makes it easy to create, organize, and maintain consistent taxonomy of your tracking URLs to capture the data you need to accurately attribute your marketing campaign results.
UTM Parameters vs. UTM Codes vs. UTM Tags
You may have noticed that the terms; UTM Parameter, UTM Code, and UTM Tag are used interchangeably. It can sometimes get confusing, but they mean the same thing.
Before using the UTM generator above, you must first understand all the parameters involved and how each one functions.
Five different UTM parameters make up a UTM link. Three are mandatory, while the other two are optional fields you may use to add further context to the tracking​​ link.
The three required UTM parameters are;
| | | | |
| --- | --- | --- | --- |
| Parameter | Description | Use Cases | Example |
| Source (utm_source) | It shows the website or platform that the visit came from. | Use google, facebook, email platform name such as sendgrid or autopilot. | utm_source=autopilot |
| Medium (utm_medium) | It shows the type of marketing channel your visitors came from. | Use the predefined values by Google such as cpc, email, affiliate, social or similar | utm_medium=social-cpc |
| Campaign (utm_campaign) | It shows the unique name of the campaign that the link is a part of. | Use product descriptions. It is also best for applying advanced UTM naming conventions. | utm_campaign=product-launch |
Then two optional UTM parameters;
| | | | |
| --- | --- | --- | --- |
| Parameter | Description | Use Cases | Example |
| Term (utm_term) | This tag comes from Google Ads. It shows the keyword that triggered the ad containing the link. | To track varieties in copy. Also, used to indicate Facebook ad headline or email subject line. | utm_term=best-hiking-shoes |
| Content (utm_content) | To differentiate between ads or posts on the same platform. Useful for A/B testing images or ad copy. | To indicate link placement — headline vs. body vs. image vs. footer. Or for advanced uses of UTMs | utm_content=ad-version-2b |
How to generate your UTM codes with the UTM builder
To get clean google analytics data from UTMs, some best practices you should know before creating your UTM codes are;
Use UTM tagging on external content only. Using UTM tags on internal links on your website leads to inaccurate reporting because Google analytics will interpret the clicks as new sessions.
Establish a consistent UTM naming convention across all your marketing channels. Minor typos or capitalization inconsistencies (Social vs. social) can mess up your clean analytics reporting.
Don't use punctuation or special characters in your parameters.
Always use dashes instead of white spaces in your parameters.

With that out of the way, follow these simple steps to use the UTM builder to generate your UTM codes.
Input your website, blog post, or landing page URL.
Fill out the correct values your organization has established for source, medium, campaign, term, and content.
Check that everything looks good and adheres to best practices.
Click "Build URL" to generate your UTM code.
Copy the generated URL and use it in your marketing campaigns.
Take a look at the image below for reference.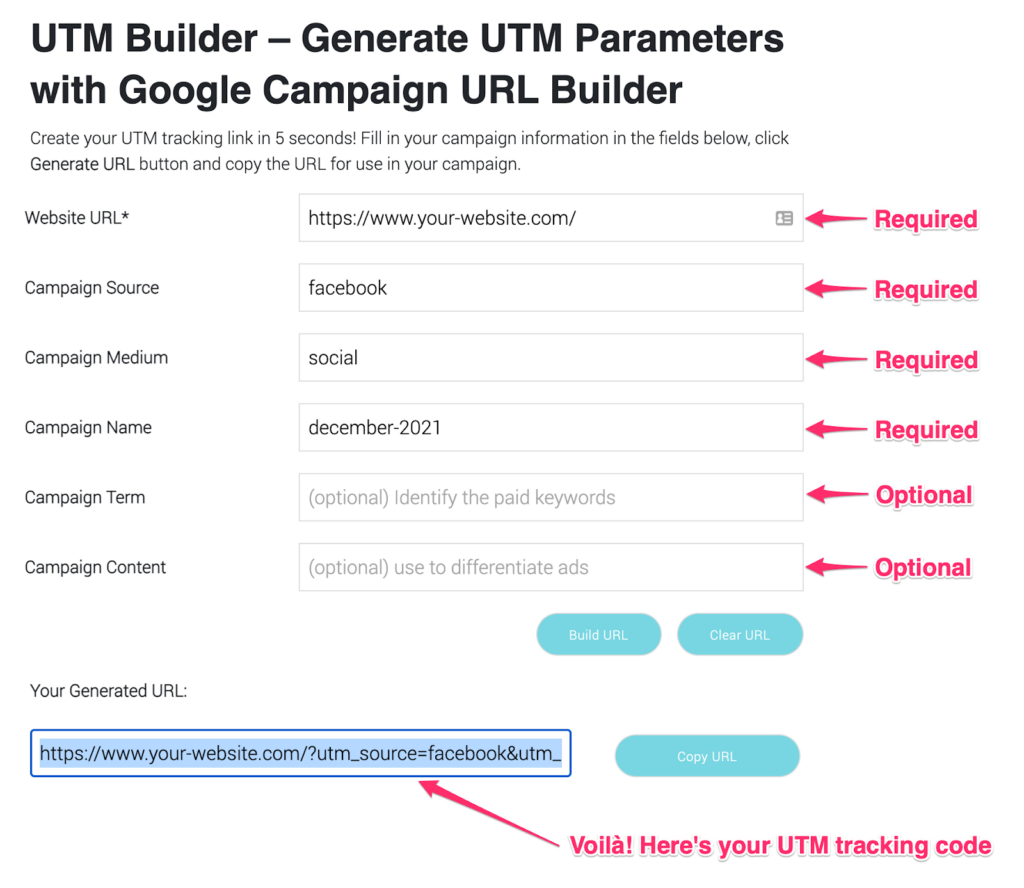 Alternative UTM code generator
If you'd rather not use our free UTM builder, there are other ways to generate your UTM codes. Let's explore the pros and cons of each one.
UTM Builder Spreadsheet
These are either Excel spreadsheets or Google sheets that use a pre-configured formula to generate UTM codes automatically when you add the destination URL and parameters. Some popular spreadsheet builders are;
Pros
There are loads of free templates, and you own them.
You can customize it and control what to keep, add or delete.
It serves as a system to store and organize your tracking links.
Cons
You have to integrate with a 3rd party tool like Bitly to shorten links.
It quickly becomes overwhelming when managing a large number of links.
Spreadsheets are very prone to human error.
It's hard to enforce UTM taxonomy and rules across your teams.
Simple URL builder
A perfect example of a simple URL builder is our free tracking URL generator on this page or the Campaign URL Builder by Google. You fill out your destination URL and parameters, then generate your link automatically one at a time.
Pros
It's free and online.
It's easy to use.
Saves time on smaller campaigns
Cons
You have to copy your link to a 3rd party tool like Bitly to shorten links.
Setting up custom UTM parameters is difficult.
You have to find another system to manage and organize your UTM tags.
You cannot enforce UTM taxonomy and rules across your teams.
UTM Tagging Software
These are SaaS platforms that automate all the work to generate, shorten, store, share and manage UTM tags. Some tools have more advanced features, like our all-in-one UTM Management Tool — which allows you to centralize tag management with a combination of a web app and browser extension. Others are offered either as browser apps (extensions) or as web apps only.
Pros
It saves a lot of time and eliminates human errors.
Better user experience because of a well-planned user interface.
You can bulk URL generation and shortening.
It allows you to enforce UTM taxonomy and rules across your teams consistently.
It serves as a central place to store and organize tracking links.
Cons
It requires a monthly subscription or annual contract to use.
You'll need a little training to understand how to use it effectively.
Recommended UTM Building Resources
UTM tags are just as good as how often you use them in your marketing campaigns. The more consistent your organization uses them, the better your analytics reporting in the long term.
You should read these articles for in-depth tips on how to start using UTMs like a pro;